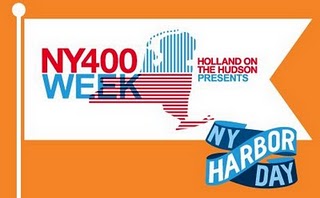 Location
The Battery, Battery Park City, Brooklyn Bridge Plaza, Governors Island, Water Taxi Beach, Pier 84 in Hudson River Park, Snug Harbor Cultural Center.
Harbor Day, a city-wide public event, will be the culmination and high point of the NY400 week. Wide range of activities up and down the Hudson and in New York's waterfront parks. Spectators will be able to watch the events on the water on a giant video screen in the Battery, from stands seating between 7,000 and 10,000 viewers.
Harbor Day will kick off at 9:30 AM in The Battery with a bicycle tour led by the Netherlands' Prince of Orange and Princess Máxima.
Visitors will also be able to enjoy the parks and use free NY400 bikes and water taxis.
That's not to mention the New Island Festival or Pioneers of Change on Governors Island —both of which promise a good time for all! (NY400)
Click here
to download a complete list of Harbor Day activities