Below is a list of Haitian Relief events and drop off locations to happening around NYC and other states and countries. If you have any items and/or money to donate, please show your support by attending these events. I'll update this list as I get notified of new events.
Friday, January 15, 2010
Katra Lounge
Between Rivington and Prince
217 Bowery, New York, NY 10002
5-11pm
Donations: Bring Clothes, Canned Foods Etc! All Collected items will be picked up & sent 2 Haiti by YELE
Saturday, January 16, 2010
Butter
415 Lafayette Street
New York, NY 10003
1-3pm
Donations:
Please come by with any of the following items to help.
Packaged Blankets/White Sheets
Protein/Nutrition Bars
Flash Lights w Batteries
Candles
Matches
First-Aid kits
Summer clothing
Toiletries
Hosted by:
KMP Blog, Pushy Dreamers, Champagne Dreams, The AF Girls 
Mommy Long Legs, Single Gals and the City

Sunday, January 17, 2010
Hunter College
There will be a meeting at in Hunter College Thomas Hunter CSU club room on Sunday from 5-8 where you can drop off donations. For more information about this please contact Lily at 347-623-4964. Please come and lend your support. (info provided by: Mommy Long Legs)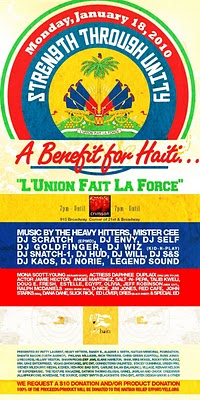 Monday, January 18, 2010
 A Benefit for Haiti
Crimson (aka Strata)
915 Broadway
(corner of 21st & Broadway)
7pm – Until
Donations: Canned goods, product donations and/or $10
Stay Lounge
244 East Houston Street
New York, NY 10009
6-9pm
Donation:
Monetary (for the YeleHaiti Foundation)
Hispanics Across America
has set up the following drop-off sites for the Haitian relief effort. Donations of canned goods, clothing, & non-perishable items may be left at:
•
High Class Car Service
at 604 West 158 Street between Broadway & Riverside Drive/Edward Morgan Place. Telephone: (212) 926-1111. High Class also will pick-up items at your home or place of business; please call to schedule an appointment.
•
Mamajuana Cafe
at 247 Dyckman Street between Seaman & Payson Avenue. Telephone: (212) 304-0140
•
Tabaco y Ron Cafe
at 501 West 214 Street & 10th Avenue. Telephone: (212) 567-7170They are collecting the following items:

CLOTHING:
Sneakers
Socks
Underwear – BRAND NEW
Baby clothing – anything you have
SHELTER:
Sheets
Blankets
Towels
Tents
Tarps
POWER:
Candles
Flashlights
Flashlight Batteries – D Cell
Matches/Lighters
Lanterns + Lantern oil
MEDICINE:
Rubbing alcohol
Hydrogen peroxide
Iodine
Bandages
Gauze
Aspirin
Soap
Baby diapers
FOOD:
Canned food with TAB openings – soup, tuna, etc.
Energy bars
Bottled water
*Info provided by: Mommy Long Legs