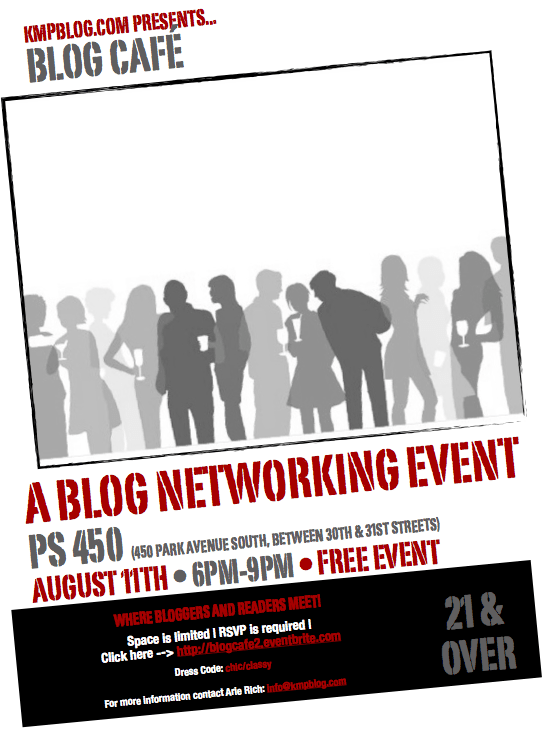 You're cordially invited to… Blog Café – 2.0!
Where Bloggers Meet Readers!
Who: Bloggers and Site owners
What: Networking event for bloggers/site owners and their readers.
Where: PS 450* | 450 Park Avenue South (between 30th & 31st streets)
When: Wednesday, August 11th, 2010 | 6pm-9pm
Why: Because sometimes we can all use a little break from our Macs and PCs to network and mingle in person.
(Free gift bags provided by some participating bloggers)
Please come out and show your support!
*Blog Café – 2.0 is a 21 & over event.

Space is limited | RSVP is required
Meet our Sponsor:
Blogging Gift Card Sponsor:

Spa Week Daily, the blog of Spaweek.com.

Stay tuned for how you can win yourself a $50 Spa Week gift card!
Nina Shoes will be sponsoring the event as well.
Click here to find out more info.

The lovely Tineey.com blog is donating (4) Four Silver iPod Shuffle to be raffled during the event!
Thanks, Tineey!!!
Some of the participating blogs and websites include:
Around Harlem
Naked with Socks On
Pushy Dreamers
Tineey
Champagne Dreams
Temple of Glam
Eb the Celeb
Around NYC
John Simon Daily
and Kitty Bradshaw.