My recent trip to Tokyo wouldn't have been possible if it wasn't for winning a lottery spot to run the Tokyo Marathon.
So it'll all began with a very supportive and encouraging running friend, Catherine. She told me about the Big 6 Races and it really sounded like something I would be interested in doing. I'm starting to enjoy this "running thing" and I love to travel so why not. Kill two birds with one stone. Besides in 26.2 miles you get to see a lot of a city. Sounded perfect. So we all entered the lottery in August 2013 and prayed for the best.


Around end of September 2013, we were notified if we got in or not. My boyfriend and I made the cut, my friend didn't this time. I really wanted her to come but I promised her that when she gets picked I'm coming back with her.
Anyways, I started training for the marathon around November. A few weeks after the Nike Women's Marathon San Francisco. Yes, I was exhausted, but I was mad at myself for taking a break after San Francisco because starting over wasn't easy. Week one and two were brutal. Everything hurt, like I was new at this.
This winter has been really, really cold! Yes, we had some awesome warm days, and I made sure to take advantage of those days to do my long runs. Luckily the day of my 20 mile run, it was a gorgeous day and I was able to do it mostly outdoors. It was also Super Bowl weekend so the streets were packed with tourists.
Winter Training by Slidely Slideshow
On those really cold days, I was forced to train mostly indoors and torture myself with the treadmill. Running past 6 miles on the treadmill has always been a challenge for me. But this winter I learned to suck it up and learn to split my runs and run over 6 miles. One time I had to do a 12 mile run indoors so I split it into two 6 mile runs. I know it takes me about an hour to do 6 miles, so I watched 2 episodes of Sons of Arnachy while on the treadmill. That really got me through the run.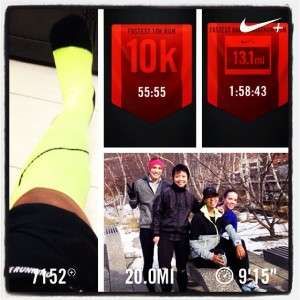 The closer I got to race day, the less nervous I was. I knew as long as I got my 20 miler in I would be fine, or fine enough to finish it. Which when you are sort of new to running, that's all you really want. I know that's what I wanted. To finish it. Yea, I wanted a decent time (whatever that means), but most of all, I wanted to be able to run it, not hurt or injury myself and be able to finish it.
Since our temperatures changed so much in NYC, and people thought it was Summer when it was 50 degrees, a lot of people got sick when the temperature would drop to 10 degrees Farenheit. Well, I wanted to get sick early in the month so I wouldn't get sick on race week. There was a lot of changes and things going on in my life that I knew any minute I would get sick. But of course my body fought it and was like nope you're good.
I was able to fly out to Tokyo, make it to the hotel and sleep for a bit. The day or morning after I landed I immediately got sick. I think it had something to do with the lack of sleep and maybe immune system dropped and that's when whatever virus, took over me and knocked me out of commission for a few days. I fought it. Unfortunately, I didn't have any cold & flu medicine with me. I had a few Advil and some Claritin. What was I thinking when I packed?! I usually carry this stuff with me, including Vicks VaporRub. Well not this time. The Advil helped with the body aches the Claritin didn't help much. Luckily, there was a supermarket/pharmacy type store right outside my hotel, so I stacked up on oranges, lemons, some Japanese cold medicine and I got some salt in a cup from Burger King, (desperate times call for desperate measures). The salt was so that I could gargle warm water with salt until my throat felt better and to avoid an infection or strep throat.
I soaked in warm baths twice a day, that helped with the body aches, and it helped me sleep better.
The oranges and lemon, helped build up my immune system and clear out some of the phlegm. Trust me I was a total mess, but I didn't let that stop me, I still had a few days left before the race. And I still managed to tour & sightsee for a bit. I took one full day off to completely rest. That helped a lot.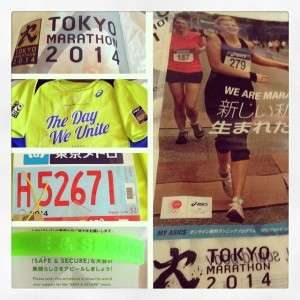 Saturday I picked up my race items, bib, shirt, etc… from the expo.
Saturday night I could not sleep. Annoying cough took over and I was worried that I wouldn't be able to run and cough at the same time. It was that cough that came about every 2 seconds and you feel like you can't breathe. Ugh. I was so mad and sad at this point. So close. I got up in the middle of the night and took some of the Japanese medicine, said a prayer and went back to sleep. That morning I woke up, not a 100% better, but more like 65-70% better. The cough was more under control, definitely not as bad. I got up, showered, got dressed and didn't think about it. Had some bread, some OJ, gargle my salt water and kept an eye on the prize. I GOT THIS!!
The race was so well organized that I never felt lost or confused as to where I was supposed to go or what to do. This race is packed! For the insane amounts of people there, you would expect chaos, but there wasn't. They even have security checking your bags before you check them in at the baggage check. They also had a food station before you check your bags so you can fuel up really quick before the race. I really mean food station, like bagels, bananas, juice, etc… The baggage check are impressively organized. Plenty of porta pottys to use prior to the start line. We arrived early, so maybe that's why it didn't feel as chaotic. Good time to arrive is 7-7:30am. The race starts at 9am. Instead of giving you a mile by mile course run down, I'll just share some tips and things I learned when training for the Tokyo Marathon.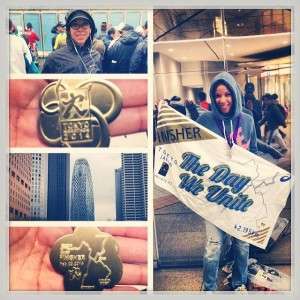 Here are some tips when training for the Tokyo Marathon:
The course is pretty flat for the most part

, there are a few rolling hills, but nothing too crazy, especially if you've ran in

Central Park

or done the

Nike Women's Marathon in San Francisco

. The Tokyo hills will be like a bump in the road, nothing too crazy. Actually there's one random hill towards the end that can be a bit of a nuisance, because your legs are tired and it kind of forces you to keep your feet up, or you'll feel like you're tripping.
My advice, train in a course with a few small hills, mostly rolling hills, random hills, that go from a long flat road, to a random unexpected hill.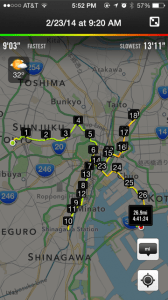 I found my biggest challenge with this course was the constant turns, lots of turns. Especially towards the finish line, just when you think it's over, there's more, and more and another turn, and another turn. It gets a bit discouraging.
My advice, train in a course with unexpected turns, or just lots of turns. I've also noticed that the best way to take on a turn is by staying close to the curb. It'll cut down on some of your time if you do that. So before getting to the turn, make sure that your turns aren't wide.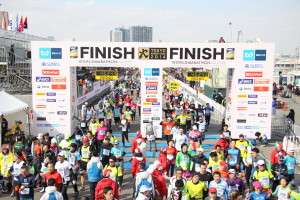 It's a very crowded course. I saw a couple of people trip and fall because they didn't watch where they were going, also, there are cones and barricades on the side of the course, if you the person in front of you makes a quick left or right because of an obstacle in his or her way, and you aren't paying much attention, you will crash. I saw this happened to a few people.
My advice is to be careful, pay attention, slow down if you have to, and weave your way out of tight crowds. It stays pretty crowded until the very end, so you'll be doing a lot of moving around. Train in races that are very crowded so you get a good feeling of the crowd and what to expect on race day.
As far as fueling goes, you are pretty well fed throughout the course, and there are plenty of water stations to keep you hydrated.
My advice, I personally recommend running with a water bottle and filling it up at the water stations. That way you can skip a few water stations, until your bottle runs out.

Also, carry some gel packs or chews. I didn't see many gel packs being handed during the course.
There's quite a few tempting down hills that will make you want to go super fast at the beginning of the race.
My advice, pace yourself, we all know going out too fast will only wear you out when you reach miles 17 and up. Don't worry about going out slow at the beginning, when everyone slows down at miles 18-20, you will tap into your reserved energy and finish strong. Trust me it works.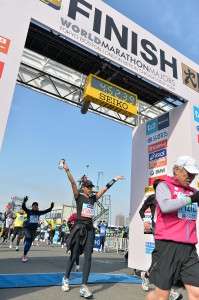 Despite my rough race week, I was able to finish the race and achieve a personal best. Like I mentioned above, my goal was to finish it, but my sub-goal was to try and finish it in under 5 hours, and I did!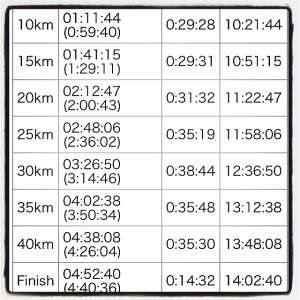 I tried to cover a lot in this post, mostly from my personal experience, but if you have any questions about the Tokyo Marathon that I didn't cover, leave me a comment and I will definitely try to answer it.