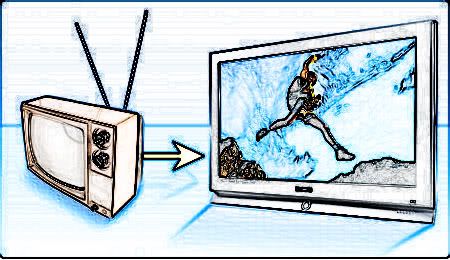 Well apparently you'll have no choice on February 17, 2009 when all TVs go DIGITAL! Whoopee Doo!
Anyways, NY Broadcasters will be doing a test TODAY, Tuesday, October 28, 2008.

New York television viewers will learn whether or not they are "ready" for the upcoming digital television (DTV) transition.
To simulate the federally mandated shutdown of television analog signals planned for February 17, 2009, a voluntary group of over-the-air, full-power broadcast television stations serving the New York market will participate in a soft-shutdown of their analog signal.
Each test will last for two minutes, allowing audiences time to determine if their television set(s) is DTV compatible, and if not, supplying them with the necessary resources and information to prepare. An on-screen message slate will appear across participating broadcast TV stations notifying viewers whether or not they are digitally connected.
WHO: The following participating stations are involved -WABC-TV (ABC, channel 7) WNYE-TV (NYC Media, channel 25) WCBS-TV (CBS, channel 2) WNYW-TV (Fox, channel 5) WFUT-TV (Univision, channel 68) WPIX-TV (The CW, channel 11) WLIW-TV (PBS, channel 21) WPXN-TV (ION Television, channel 31) WNBC-TV (NBC, channel 4) WWOR-TV (MyNetworkTV, channel 9) WNET-TV (PBS, channel 13) WXTV-TV (Univision, channel 41) WNJU-TV (Telemundo, channel 47)
WHY:The New York shutoff, scheduled in conjunction with a series of similar tests throughout the country, aims to equip viewers with the information necessary to achieve DTV readiness.
WHEN:Tuesday, October 28, 2008,between 5:58 p.m. and 6:01 p.m. ET.
*For more information visit: MarketWatch
*KMP*