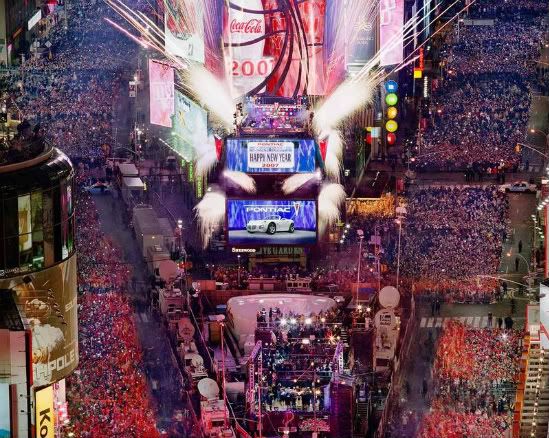 So you are
BOLD
enough to go see the ball drop in Times Square tonight?! Well good luck… But just know these tips before you go:
Over one million people celebrate New Year's Eve in Times Square. Getting a good view of the Ball Drop and staying comfortable during the long wait for midnight's arrival will be easier with these helpful tips.
Arrive Early For Best View of the "Ball Drop"
People tend to arrive early morning on December 31. Some of the best viewing spots will be filled by mid-afternoon. Be aware that you won't be able to return to "your spot" if you need to leave to eat, use a bathroom, or move for any other reason.
Hit the Bathroom First!!!
Port Authority bus terminal, even though is crowded, is a good place to stop before you begin your wait in Times Square. There are public bathrooms inside of the Port Authority, as well as places to buy food and drinks. The Port Authority Bus Terminal is located on 8th Avenue and 42nd Street.
Prepare for the Loooooooong Wait
Once you've found a spot in Times Square, be prepared to stick it out until midnight. It's a good idea to have a nice big lunch before settling in. Unless you want to lose your spot, this means being dressed for the weather, with extra layers to add as it gets later and colder. You should also be prepared with snacks, drinks (no alcoholic beverages are permitted), and diversions. If you arrive in Times Square at 4 p.m., there are still 8 long hours until the ball drops at midnight. Bags/backpacks are not allowed, so wearing a coat with plenty of pockets is a good idea.
Be Ready for Crowds
Approximately one million people spend New Year's Eve in Times Square. This means that if you are within view of the ball, you will frequently be tightly packed in, quite possibly for hours before the actual ball drops. The police will periodically "force" different areas to crowd in, but the crowding will typically lessen (a bit) shortly after.
Be Patient and Have a Sense of Humor
Your feet will get stomped on. People will block your view. Someone is bound to bump into you. Keep your cool and you (& those around you) will enjoy the New Year's Eve Ball Drop.
Celebrate New Year's Around the World
There is a mini-celebration every hour in Times Square, as different countries ring in the New Year around the world.
Consider the Weather
The weather in New York City on New Year's Eve can vary widely. If it's going to rain or be bitterly cold, you might want to consider alternate plans.
Changed your mind about the ball drop? Attend an Event at a Hotel, Restaurant or Bar in Times Square
Reservations are essential, but if you're at a restaurant, bar or hotel in Times Square there's a good chance you'll be able to step outside and watch the ball drop at midnight.
What should you bring tonight?
Dress in Plenty of Warm Layers
Even if it's fairly mild in the afternoon of New Year's Eve, the temperature is bound to drop as Midnight approaches, so be prepared with plenty of warm clothing, including a hat, scarf, and gloves.
Comfortable Shoes & Socks
New Year's Eve in Times Square is no time for wearing your Jimmy Choos. You will be standing for many hours, so wear comfortable, broken in shoes and warm socks.
A Camera
You'll want to record the ball dropping, fun moments with your friends, and preserve the memory of this unique experience.
Food
Snacks, like granola bars, energy bars, nuts, and dried fruit are great ways to keep yourself from getting hungry while in Times Square. It's also a good idea to have a nice big lunch before you head to Times Square.
Drinks
Despite the fact that you won't want to stop at a bathroom, you also won't want to get dehydrated. While alcohol is not officially permitted, there are always people popping open bottles of champagne at midnight.
An Autograph Book
One of the greatest things about celebrating New Year's Eve in Times Square is all of the folks from around the world that you will meet during the festivities. Bring along an autograph book (& pen) or you can have your new friends sign your t-shirt!
Facts and Tips for Watching the Ball Drop Live on New Year's Eve in NYC:
The ball drops at One Times Square, the streets of which will be blanketed with national media and a crushing mass of people (both tourists and native to NYC). Rockefeller Center is a classy spot from which to watch the celebrations.
Ringing in the New Year with the Times Square ball drop started in 1907, but it's gotten much, much bigger in the past hundred years. One Times Square was only completed two years earlier (1905), so the building and event are historically linked.
The New Year's Eve Ball is 12 feet in diameter – the brand new (circa 2008) ball is double the size of previous NYC New Year's balls, and covered in 2,668 Waterford crystals. Sparkly!
From now on, this new 2009 Times Square Waterford crystal New Year's Eve ball will be on display year-round in (you guessed it) Times Square. It will "roost" on top of One Times Square.
If you want to watch the ball drop with the hundreds of thousands of people on the streets of NYC, be prepared to see a lot of cops trying to keep a lid on things. They'll be herding the crowds into partitioned areas and watching for illicit activity.
No backpacks. The NYPD knows what revelers try to smuggle in those things (for the uninitiated: Alcohol).
As with any free, massively popular event, you don't get to "save your spot" if you leave. Here's a tip: If you like where you are, don't leave. That means, you may want to ration how much you drink. Peeing on the street is gross, and the cops won't like it. Neither will your fellow revelers.
And you already know that an open bottle of alcohol is a no-no, right?
NYC is not a tropical vacation spot. Even on relatively balmy years it's cold in New York in December and January. Be smart and bundle up – no backpacks to stuff scarves in, so travel with whatever you think you may need to stay comfortable in NYC for New Year's Eve.
Unless you're staying at a Times Square hotel, the fastest way to get to One Times Square is the subway. 42nd Street is the major NYC mass transit hub, so you can get there from nearly anywhere else in the city easily. The 1,2,3, and 9 subways makes stops here, the 4,5, and 6 make subway stops here too. Times Square is the terminus for the 7 subway line. The ACE, BDFV, the G, the JMZ and the L, and the NQRW all make regular stops at Times Square. There will be plenty of transit cops around to help with travel for tourists and other out-of-towners.
and last but not least…
Happy New Year!!!
*For more tips visit:
About.com
, Traveling Mamas